Zero 3F Tunable White
Code 1932
L<3000 cd/m² 65°











Variable light intensity and colour temperature.
Code
Item
Absorbed power (W)
Output flux (lm)
CCT (K)
CRI
Dimensions
L x A x H
IP
DALI DT8 electronic wiring 230V‑50/60Hz
03F 28W DT8 TW L1204
35
34
33
4115
2700
4000
6500
>80
1204x119x64
40
03F 35W DT8 TW L1506
43
41.5
40
5144
2700
4000
6500
>80
1506x119x64
40
03F 42W DT8 TW L1787
50
49
47
6172
2700
4000
6500
>80
1787x119x64
40
Construction characteristics
Illuminotechnical characteristics
Controlled symmetric distribution.
Average luminance <3000 cd/m² for radial angles >65°.
The colour temperature can be adjusted between 2700 K and 6500 K.
Lifetime (L93/B10): 30000 h. (tq+25°C)
Lifetime (L90/B10): 50000 h. (tq+25°C)
Lifetime (L85/B10): 80000 h. (tq+25°C)
Lifetime (L80/B10): 100000 h. (tq+25°C)
Photobiological safety in compliance with IEC/TR 62778: RG0 risk exempt, (IEC 62471).
Mechanical characteristics
Housing in hot‑galvanised steel, painted in white polyester.
Diffuser with differentiated geometry, made of transparent methacrylate with microprismatic finish, anti‑glare on the flat part and opal on the side.
Anti‑glare opal methacrylate filter for brightness uniformity.
Lighting end caps in PMMA opal.
Electrical characteristics
In compliance with EN 60598‑1.
Compliance with the EN 60598‑2‑22 standard for power supply from a centralised CPSS emergency system must be verified in the technical data sheets of each individual device on our website.
Cable with a DALI DT8 driver.
5‑pole terminal block (L‑N‑PE‑DA/DA) for line connection with connection capacity 2x2.5 mm² per poles.
Source characteristics
Linear LED modules.
Colour initial tolerance (MacAdam): SDCM 3.
On request
different power levels or colour rendering indices
emergency versions
Applications
Any environments requiring light which aims for the wellness of people.
Environments: with VDTs, meeting rooms, offices.
Environments: recreational, transit areas, corridors, schools, stairwells.
Environments where soft diffuse light is required for optimal visual comfort.
Luminaires suitable, from a hygienic point of view, for use in production plants in the food industry (HACCP / IFS / BRC‑Standard).
Installation
Ceiling, suspension or wall installation.
Thanks to the full compatibility for dimensions and fixing distances, this product becomes the perfect solution for updating existing installations.
Light Management
Thanks to the 3F HCL technology, our Tunable White products can be controlled by:
Wired control systems
3F Bluetooth control systems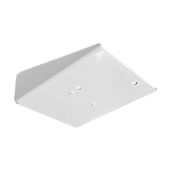 Wall‑mounting bracket, in white painted steel.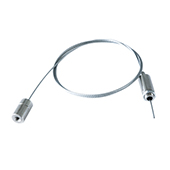 Suspension with regulator, galvanised steel cable 1.5 mm diameter, load 15 kg.
Code
Item
A0660
Suspension with adjustment - 1m
A0661
Suspension with adjustment - 2 m
A0662
Suspension with adjustment - 3 m
A0663
Suspension with adjustment - 4 m
A0664
Suspension with adjustment - 5 m
A0665
Suspension with adjustment - 6 m
Attention: each product requires two suspensions with regulator.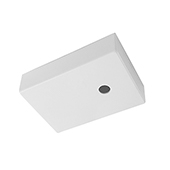 Electric supply with white polycarbonate case, internal bracket in galvanised steel.
Code
Item
A0679
5 pole rectangular rose (no cable) WH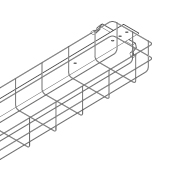 Wire‑guard for applications in dry environments, against shocks coming from any directions, galvanised steel rod Ø 5 mm.
Only for luminaires fixed without hooks.