Beta A3F Fosse
ON/OFF electronic wiring 230V‑50/60Hz
Code
Item
W
lm
K
CRI
L x A x H
IP
8321
Beta Fosse LED 931x12W II AS VS L655
15
1780
4000
>80
655x235x110
65
EP maintained emergency wiring, 1hr duration with 24hrs recharge
Code
Item
W
lm
K
CRI
L x A x H
IP
8322
Beta Fosse LED 931x12W EP II AS VS L655
16
1780
4000
>80
655x235x110
65
ILLUMINOTECHNICAL
Asymmetric distribution.
Lifetime (L85/B10): 50000 h. (tq+25°C)
Photobiological safety RG0.
SOURCE
Linear LED module.
Colour initial tolerance (MacAdam): SDCM 3.
MECHANICAL
Housing in AISI 304 stainless steel, pressed in one single piece with exceptional strength resistance to aggressive chemical agents.
Moulded anti‑glare glass, non‑combustible, tempered, thickness 4 mm, mounted and locked to the single‑piece stainless steel perimetrical frame, sealing gasket, hinged opening by means of 6 AISI 304 stainless steel clips.
Wide flow recuperator, oversized, in specular aluminium with superficial titanium‑magnesium treatment, non‑iridescent.
Gear‑tray unit in hot‑galvanised steel, painted in white polyester, fixed to the housing by means of "Ribloc" rapid devices in AISI 304 stainless steel, hinged opening.
ELECTRICAL
Entry for power‑supply cable at end cap in asymmetrical position, Ø 20,5 mm hole.
The cable gland for feeding input is NOT supplied, by installer.
INSTALLATION
On double vertical column.
Fixing of luminaire in header by means of 2 screws 8MAx45, with stainless steel nuts and washers supplied, (bracket not supplied by 3F or specific 3F accessory to be requested).
APPLICATIONS
Inspection pits with possibility for the operator to orientate the device.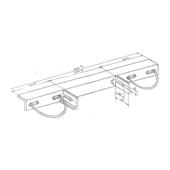 Code
Item
A0404
Fixing brackets for Beta Fosse
Steel fixing bracket with collars for fixing on columns.