L 340 Tunable White LGS
Code 23953
L<1500 cd/m² 65°












Average luminance <1500 cd/m² for radial angles >65°.
LGS micro‑prismatic flat diffuser in transparent methacrylate, multi‑lenticular exterior, anti‑glare.
Anti‑glare opal polycarbonate filter for brightness uniformity.
L 340 596x596 ‑ DALI DT8 electronic wiring 230V‑50/60Hz
Code
Item
W
lm
K
CRI
L x A x H
IP
23953
L 340 25W DALI DT8 TW LGS 596x596
31
30
29
3785
2700
4000
6500
>80
596x596x80
40
L 340 621x621 ‑ DALI DT8 electronic wiring 230V‑50/60Hz
Code
Item
W
lm
K
CRI
L x A x H
IP
23954
L 340 25W DALI DT8 TW LGS 621x621
31
30
29
3785
2700
4000
6500
>80
621x621x80
40
ILLUMINOTECHNICAL
Direct symmetric distribution.
Lifetime (L80/B10): 100000 h. (tq+25°C)
Photobiological safety RG0.
SOURCE
Squared LED modules.
Colour initial tolerance (MacAdam): SDCM 3.
MECHANICAL
Housing in hot‑galvanised steel, painted in white polyester.
Perimetral frame in white polycarbonate.
The 621x621 version is dedicated to false ceilings that have modular dimensions of 625x625.
ELECTRICAL
In compliance with EN 60598‑1.
Compliance with the EN 60598‑2‑22 standard for power supply from a centralised CPSS emergency system must be verified in the technical data sheets of each individual device on our website.
Wiring on a separate unit.
Class II.
INSTALLATION
Lay‑on or pull‑up installation using the frame accessory.
APPLICATIONS
Any environments requiring light which aims for the wellness of people.
Environments: with VDTs, meeting rooms, offices.
Environments: architectural, commercial, staterooms, banks.
Environments where demanding visual tasks are performed and soft diffuse light is required for optimal visual comfort and total shielding of the light source.
Luminaires suitable in production plants in the food industry (HACCP / IFS / BRC‑Standard).
LIGHT MANAGEMENT
Tunable White products can be controlled with wired control systems or 3F & Casambi.
ON REQUEST
diffuser in SP prismatic PMMA or SP polycarbonate, Selfextinguishing V2
IP65 exposed part version
emergency versions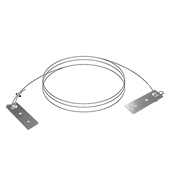 Anti‑fall safety cable with pair of brackets for fixing the housing to the building structure.
Length 2.5 m.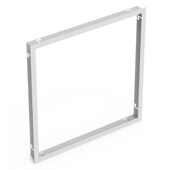 Adapter frame in white‑painted steel, for installing luminaries with dimensions of 596x596 mm for pull‑up installations on plasterboard false ceilings.