3F LED Panel











Code
Item
Absorbed power (W)
Output flux (lm)
CCT (K)
CRI
Dimensions
L x A x H
IP
ON/OFF electronic wiring 230V‑50/60Hz
3FLP6060UGR-830A
31
33
34
37
3440 750mA
3640 800mA
3830 850mA
4010 900mA
3000
>80
595x595x9
43
3FLP6060UGR-840A
31
33
34
37
3730 750mA
3950 800mA
4160 850mA
4350 900mA
4000
>80
595x595x9
43
3FLP6060UGR-930A
31
33
34
37
2890 750mA
3060 800mA
3220 850mA
3370 900mA
3000
>90
595x595x9
43
3FLP6060UGR-940A
31
33
34
37
3140 750mA
3320 800mA
3500 850mA
3660 900mA
4000
>90
595x595x9
43
3FLP30120UGR-940A
31
33
34
37
2830 750mA
2990 800mA
3150 850mA
3300 900mA
4000
>90
1195x295x9
43
DALI electronic wiring 230V‑50/60Hz
3FLP6060UGR-830D
24
29
31
33
34
37
2760 600mA
3210 700mA
3440 750mA
3640 800mA
3830 850mA
4010 900mA
3000
>80
595x595x9
43
3FLP6060UGR-840D
24
29
31
33
34
37
2990 600mA
3480 700mA
3730 750mA
3950 800mA
4160 850mA
4350 900mA
4000
>80
595x595x9
43
3FLP6060UGR-930D
24
29
31
33
34
37
2320 600mA
2700 700mA
2890 750mA
3060 800mA
3220 850mA
3370 900mA
3000
>90
595x595x9
43
3FLP6060UGR-940D
24
29
31
33
34
37
2520 600mA
2930 700mA
3140 750mA
3320 800mA
3500 850mA
3660 900mA
4000
>90
595x595x9
43
3FLP30120UGR-940D
24
29
31
33
34
37
2270 600mA
2640 700mA
2830 750mA
2990 800mA
3150 850mA
3300 900mA
4000
>90
1195x295x9
43
Construction characteristics
Illuminotechnical characteristics
Direct symmetric distribution.
Average luminance <3000 cd/m² for radial angles >65°.
Lifetime (L93/B20): 30000 h. (tq+25°C)
Lifetime (L90/B20): 50000 h. (tq+25°C)
Photobiological safety in compliance with IEC/TR 62778: RG0 risk exempt, (IEC 62471).
Mechanical characteristics
Housing in white painted aluminium.
Diffuser in SMP trasparent microprismatic PMMA externally, anti‑glare with high transmittance.
Perimetral frame in white polycarbonate.
Anti‑fall safety cable.
Electrical characteristics
In compliance with EN 60598‑1.
The luminaires with EP permanent emergency wiring on board comply with EN 60598‑2‑22 standard, high risk areas excluded.
Wiring on a separate unit.
Multi‑current power supply that allows you to choose the driving current of the fixture at the time of installation according to the required illuminance.
Class II.
Quick connection non‑reversible plug‑socket terminal block, also for cascade connection.
Source characteristics
Linear LED modules.
Colour initial tolerance (MacAdam): SDCM 3.
Applications
Environments: with VDTs, meeting rooms, offices.
Environments: recreational, transit areas, corridors, schools, stairwells.
Environments where soft diffuse light is required for optimal visual comfort.
Luminaires suitable, from a hygienic point of view, for use in production plants in the food industry (HACCP / IFS / BRC‑Standard).
Installation
Lay‑in or pull‑up installation, Ceiling or suspension via accessory.
Light Management
The device, equipped with DALI driver, can be controlled manually with 3F Easy Dim technology or automatically / manually with 3F Smart Dimming technology.
In electrical systems without a regulation system (manual or automatic), a suitable jumper must be made on the DA‑DA terminals of the appliance.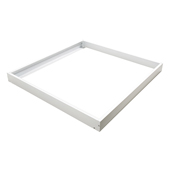 Frame for ceiling installation of the product (driver included), made of white extruded aluminium.
Kit to assemble.
Dowels and screws supplied as standard.
Attention: the code 3FLPLAF0603 is dedicated to 60x60 cm panels, while the code 3FLPLAF01203 is dedicated to 120x30 cm panels.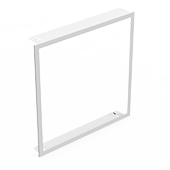 600x600 carter in white painted steel, for installing 596x596 mm luminaires in abutment on false ceilings with metal panels.
This accessory is suitable for square products only.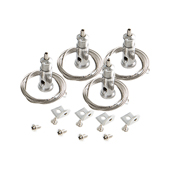 Adjustable suspension with 1.5 m long cables.
Code
Item
3FKTLP-SPU - Suspension with adjustment - 1,5m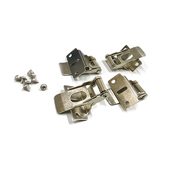 Kit of 4 metal springs for recessed installation of the product.
Code
Item
3FKTLPW1-MS - Built-in springs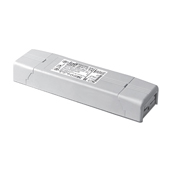 EP maintained emergency wiring, 3hr duration with 24hrs recharge.
EN 60598‑2‑22 standard compliant, high‑risk areas excluded.
Dimensions 135x45x23 mm.