3F Linux D










Diffuse distribution.
Structure height (3F Linux S + 3F Linux D) equal to 81 mm.
Code
Item
Absorbed power (W)
Output flux (lm)
CCT (K)
CRI
Dimensions
L x A x H
IP
ON/OFF electronic wiring 230V‑50/60Hz
A20336
3F Linux D 2x22 LED L1778
49
6236
4000
>80
1778x62x47
40
A20335
3F Linux D 2x30 LED L1778
66
7835
4000
>80
1778x62x47
40
DALI electronic wiring 230V‑50/60Hz
A20350
3F Linux D 2x22 LED DALI L1778
49
6236
4000
>80
1778x62x47
40
A20349
3F Linux D 2x30 LED DALI L1778
66
7835
4000
>80
1778x62x47
40
Construction characteristics
Illuminotechnical characteristics
Diffused symmetric distribution.
Lifetime (L93/B10): 30000 h. (tq+25°C)
Lifetime (L90/B10): 50000 h. (tq+25°C)
Lifetime (L85/B10): 80000 h. (tq+25°C)
Lifetime (L80/B10): 100000 h. (tq+25°C)
Photobiological safety in compliance with IEC/TR 62778: RG0 risk exempt, (IEC 62471).
Mechanical characteristics
Light unit in hot‑galvanised steel, painted in white polyester base with fixing springs and retractable safety hooks in stainless steel.
Curved screen in self‑extinguishing polycarbonate, UV stabilised, opal, with smooth outer surface.
Electrical characteristics
In compliance with EN 60598‑1.
Compliance with the EN 60598‑2‑22 standard for power supply from a centralised CPSS emergency system must be verified in the technical data sheets of each individual device on our website.
Connection to the structure with mobile plug with phase selection (H05Z‑U Halogen Free cable section 0,5 mm² HT90).
Source characteristics
Linear LED modules.
Colour initial tolerance (MacAdam): SDCM 3.
On request
asymmetric lighting distribution
different powers
LED sources with different colour temperatures
housing in different RAL colours
wiring: CLO
emergency versions
Applications
Environments: commercial, exhibition areas, transit areas, lobbies or waiting rooms, shops, schools.
Luminaires suitable, from a hygienic point of view, for use in production plants in the food industry (HACCP / IFS / BRC‑Standard).
Installation
This lighting unit can be installed only on profile 3F Linux S | IP40.
Light Management
The DALI products of this family can be controlled manually with the technology 3F Easy Dim or even automatically and manually using the 3F Smart Dimming technology (refer to "Light Management").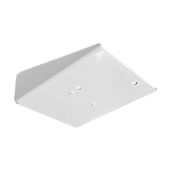 Wall‑mounting bracket, in white painted steel.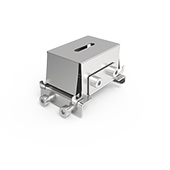 Brackets for installation of 3F Linda luminaries on 3F Linux S structures.
Made from hot‑galvanised steel.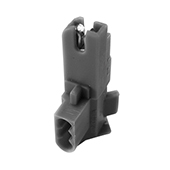 Additional contact for light unit plug.
Code
Item
A20476
Contact pin for 3F Linux plug (50 pcs.)The pack contains 50 pieces.
Accessory not compatible with 3F Linux S‑NL (cod.: A20011, A20012).