3F Eldorado Frame White LGS
Code 2326
L<3000 cd/m² 65°









DALI electronic wiring 230V‑50/60Hz
Code
Item
W
lm
K
CRI
L x A x H
IP
3F Eldorado 29/840 DALI LGS 596
33
3251
4000
>80
596x596x95
40
3F Eldorado 39/840 DALI LGS 596
45
4256
4000
>80
596x596x95
40
3F Eldorado 29/840 DALI LGS 621
33
3251
4000
>80
621x621x95
40
3F Eldorado 39/840 DALI LGS 621
45
4256
4000
>80
621x621x95
40
ILLUMINOTECHNICAL
Controlled symmetric distribution.
Average luminance <3000 cd/m² for radial angles >65°.
Lifetime (L80/B10): 100000 h. (tq+25°C)
Photobiological safety RG0.
SOURCE
Linear LED modules.
Colour initial tolerance (MacAdam): SDCM 3.
MECHANICAL
Housing in hot‑galvanised steel, painted in white polyester.
LGS micro‑prismatic flat diffuser in transparent methacrylate, multi‑lenticular exterior, anti‑glare.
Anti‑glare opal polycarbonate filter for brightness uniformity.
Central part in hot‑galvanised steel, painted in white polyester.
The 621x621 version is dedicated to false ceilings that have modular dimensions of 625x625.
ELECTRICAL
In compliance with EN 60598‑1.
Compliance with the EN 60598‑2‑22 standard for power supply from a centralised CPSS emergency system must be verified in the technical data sheets of each individual device on our website.
INSTALLATION
Lay‑in installation.
APPLICATIONS
Any environment in which flexibility of lighting and customisation is required, capable of integrating perfectly into the areas and furnishings of different workspaces.
Environments: with VDTs, meeting rooms, offices.
Environments: architectural, commercial, staterooms, banks.
Environments where dynamic, soft and diffuse light is required for optimal visual comfort.
LIGHT MANAGEMENT
The DALI products can be controlled with 3F Easy Dim or 3F Smart Dimming technology.
ON REQUEST
different power levels, colour rendering indices and colour temperatures
emergency versions
different central screens and screen prints
equippable central covers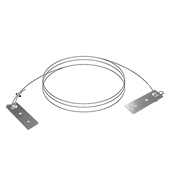 Anti‑fall safety cable with pair of brackets for fixing the housing to the building structure.
Length 2.5 m.