L 390 LED Tunable White 2MG Opal
Specular louvre, high efficiency
Code 21506
L<3000 cd/m² 65°






Variable light intensity and color temperature.
Film protective against dust and finger marks, adhesive, attached to louvre.
Code

Item

Absorbed
power (W)

Output
flux (lm)

CCT
(K)

CRI

Dimensions
L x A x H

IP

Coplanar or pull-up installation - DT8 electronic wiring 230V-50/60Hz
21506
L 390 33W LED DT8 TW 2MG OP 597x597
37
3106
3322
3355
2700
4000
6500
>80
597x597x100
20
Construction characteristics
Illuminotechnical characteristics
Direct symmetric distribution.
Average luminance <3000 cd/m² for radial angles >65°.
The color temperature can be adjusted between 2700 K and 6500 K.
Lifetime (L90/B10): 30000 h. (tq+25°C)
Lifetime (L85/B10): 50000 h. (tq+25°C)
Lifetime (L75/B10): 80000 h. (tq+25°C)
Lifetime (L70/B10): 100000 h. (tq+25°C)
Photobiological safety RG0, risk exempt, in compliance with IEC 62471, IEC/TR 62778.
Mechanical characteristics
Housing in white painted galvanized steel.
Decorative edge in semi-glossy aluminium.
Central 2MG parabolic louvre in specular aluminium with titanium-magnesium surface treatment, non-iridescent, with transverse blades, hinged opening.
Opal polycarbonate diffuser for total shielding of the louvre compartment.
Flat diffusers lateral to louvre, in anti-glare opal PMMA.
Attention: before ordering these products, we ask you to check the Installation instructions if the type of installation requires accessory brackets.Electrical characteristics
In compliance with EN 60598-1.
Cable with a DT8 driver.
5-pole terminal block (L-N-PE-DA/DA) for line connection with connection capacity 2x2.5 mm².
Source characteristics
Squared LED modules.
Color initial tolerance (MacAdam): SDCM 3.
Applications
Any environments requiring light which aims for the wellness of people.
Environments with VDTs.
Environments where demanding visual tasks are performed and soft diffuse light is required for optimal visual comfort and total shielding of the light source.
These luminaires are suitable for installation both on false ceilings with metal panels with concealed structure, 600x600 mm (using brackets), and lay-installation on 600x600 mm ceiling panels with exposed structure (Armstrong type).
Light Management
Products in the 3F Tunable White range can be controlled manually or automatically with 3F HCL for TW fixtures technology (see the chapter on "Light Management").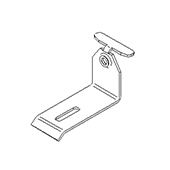 Galvanized steel fixing bracket for pull-up installation on plasterboard.
Pack for 1 luminaire.
Code
Item
A0173
15HI - L320-L350-L390-L450
The pack contains 4 pieces.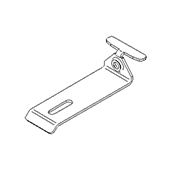 Fixing bracket in galvanized steel.
Pack for 1 luminaire.
Code
Item
A0177
15ZH - L320-L350-L390-L400-L560
The pack contains 4 pieces.